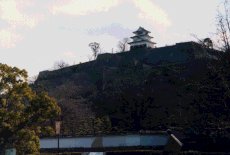 Marugame Castle
By far the most famous attraction in Marugame is the Marugame Castle, built on the hill in the center of town. It is famous for the beauty of its sloping stone walls. 1997 was the 400th anniversary of the foundation of the castle. This great occasion was celebrated with a big festival. You can get a fine view of Marugame city by hiking to the top. At the top, you will find a museum in the old watchtower. If the weather is fine, you will have a great view of the Seto Great Bridge and Mt. Zozu.
---
The Uchiwa Museum
Japanese fans, made of bamboo and paper, are called Uchiwa. They are a special product of Marugame and 90% of the fans used in Japan are produced here. This museum introduces to visitors to the process of making an Uchiwa. These days, Uchiwa made from plastic are increasing in number faster than those made from bamboo. We would like to hand the bamboo tradition down to the next generation. One bamboo Uchiwa costs about 800 yen or more.
---
Marugame Stadium
Built in 1997, Marugame stadium is very large and beautiful. In August of 1998, the national Inter-High School Athletic Meet was held at the stadium. Additionally, the stadium hosted a soccer game winter last year. And there are many sports events planned for the future. A large number of people can enjoy watching sports games at the stadium.
---
Pico
In Marugame Station, you will find a very popular little shop named "Pico." Before and after school, you will see many students killing time as they wait for their train. We can buy various things there, including CDs, books, clothes, and many pretty or interesting goods. And the price is very low, compared with other stores. Please drop in at this shop and visit while you are waiting for a train.
---
Fireworks Display
Japanese fireworks are a truly exhilarating show, and Marugame can boast one of the best shows in Japan. The Marugame Fireworks Display is held every summer, usually in late July, near the Marugame Motor Boat Race. Last year's display was held on August 1st, 1998 and was visible in Tadotsu and Sakaide too. That was also the opening day of the Inter-High School Atheletic Meet. We had an opening ceremony and 10,000 fireworks were set off. Many street stalls are open during the firework festival, selling a variety of Japanese foods. Many young and old people come in the summer Kimono called "Yukata." Fireworks are displayed for two hours at night. The summer festival and fireworks are the biggest summer event in Marugame.
---
Sunday Market
Every Sunday form 9am to 3pm, a Sunday market is held on the street between city hall and city park. When the market is held, the street is blocked to cars. These markets sell low-priced vegetables, fruits, flowers, and seedlings made by local farmers.
---
Yorozuya
Yorozuya is a small shop off Tori-cho on a narrow street. The store is full of many kinds of stationery, used clothes, and table ware. Many young people enjoy visiting this store often.