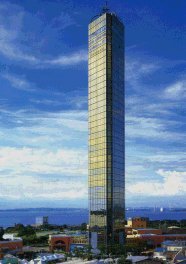 Utazu is a very small town located between Sakaide to the east and Marugame to the west. Utazu's most famous attraction is Gold Tower, the tallest building on Shikoku! From the tower, the Seto Great Bridge can be seen. Its height is 158 meters and it is shaped like a triangular prism. The color is gold. Inside the gold tower, there is an observatory.
---
The Gold Tower
It commands a fantastic view of the Seto Inland Sea and the Seto Great Bridge. It would be impossible to describe their beauty from the observatory 127 meters above the ground,so you must see it yourself!
---
Utazu also hosts a number of shops such as Tokyo Street (a fancy goods shop) and Stardust (a karaoke bar), not to mention Vivre, a popular shopping center complete with movie theaters! There's also a popular Italian restaurant called Marino's near Vivre, which serves great Pizza! So please come and enjoy Utazu on your tour of Kagawa!