The Seto Great Bridge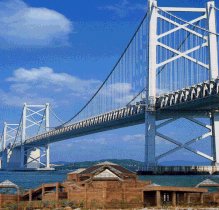 The Seto Great Bridge stands on a world champion scale. This double-decker bridge is 9367 meters in length. The time required to cross the bridge is about 7 minutes, if a car runs at 80kph. Its height is 194 meters and it's about 1.3 times as high as the Tsuyugaseki bridge. The bridge has six spans and each span has a slightly different design.
The first span is considered the most beautiful. You will have the best view of the bridge from a ship.
---
Yoshima Parking Area
This is the first parking area above the sea in Japan. It commands a panoramic view of the Seto Inland Sea. The Okayama side of the Seto Ohashi Bridge can be seen very clearly. Since part of the elevated bridge is situated a bit high, a long loop leads to the parking area. About 300 cars can be parked there.
In addition, you will find great shopping in Sakaide at SATY, which is located just north of the Sakaide JR Train Station.